Celebrating Natural Heritage in Literature, Art and Culture, a four-day event, was hosted at the Wildlife Institute of India in Dehradun and at Sai Ropa, Great Himalayan National Park Conservation Area (GHNPCA). Organized by the UNESCO Category 2 Centre on World Natural Heritage Management and Training for Asia and the Pacific Region in partnership with Himachal Pradesh Forest Department, Great Himalayan National Park, the event was attended by eminent conservationists and scientists.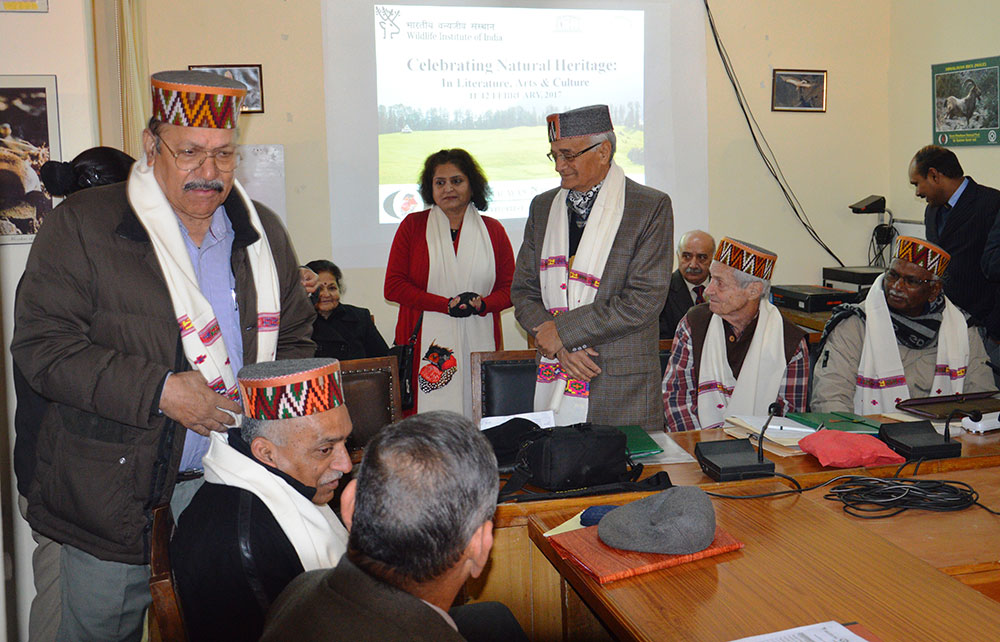 The event brought together people from different fields unified by their appreciation of nature. This included academics, researchers, journalists, filmmakers, photographers, nature writers, and poets.
A first-of-its-kind event hosted at GHNPCA, the inauguration began with Dr. M. Kirupasankar, DFO, GHNP. Following the felicitation of Dr. George Schaller, Mr. Sanjeeva Pandey, and Mrs. Pandey, GHNP Director Mr. S. S. Kataik took the audience through GHNP's history and its inscription as a UNESCO World Heritage Site in 2014.
Spanning two days, 11–12 Feb 2017, the presentations, workshops, and programmes strove to highlight GHNP's natural and cultural heritage. It also offered a platform for the local communities to engage with their natural heritage and showcase their traditions and culture.
Day 1
Session 1:
Natural Heritage of the Great Himalayan National Park by Dr. M. Kirupasankar
Splendours of the Great Himalayan National Park, A World Heritage Site by Mr. Sanjeeva Pandey

World Heritage Conservation by Dr. Sonali Ghosh
Session 2:
Nature Conservation in Mountains: Tibetan Plateaus by Dr. George Schaller
Biodiversity Conservation in Human Dominated Landscapes by Dr. AJT Johnsingh
Birds of Himachal by Dr. Asad Rahman
Session 3:
Journalist Workshop: Reporting World Heritage and Mountain Conservation chaired by Mr. Shriniwas Joshi
Session 4:
Panel Discussion: Himachali Writing Roots chaired by Mr. Shriniwas Joshi with panelists Dr. Kulrajeev Pant, Mr. Yadvendra Sharma, Mr. Sureshsen Nishant, Mr Atma Ranjan, Mr. Ajey, Mr. Gurmit Bedi, Mr. Murari Sharma, Mr. Niranjan Dev Sharma, Mr. Keshav, Mr. Srinivas Joshi, Ms Rekha, Mr. Tejram Sharma, and Mr. Prakash Badal
Day 2
Session 5:
Birdwatching and Awareness Session for Students facilitated by Dr. Monica Kaushik and Mr. Vivek Sarkar
Session 6:
Presentation by Dr. George Schaller for the Local Children of GHNP
Session 7:
Jungle Tales: Session for Discussing Stories of the Forest Staff chaired by Mr. Sanjeeva Pandey and facilitated by Dr. Sonali Ghosh
These informative sessions, which raised awareness of the region's natural heritage, were followed by cultural programmes that highlighted the unique Himachali cuisine, dance, and music. Bird watching sessions too were organized for school children.