Sanjeeva and Payson's GHNP Trek September 2018: Payson's Impressions
FGHNP Co-founder and Friend Payson R Stevens recollects his experience of storms and splendour when he undertook a trek with FGHNP Co-founder and Friend Sanjeeva Pandey.
My trek in the Great Himalayan National Park/GHNP (September 20-28, 2018) was one of the most challenging Nature experiences of my life, especially at 73. As I emailed my friends:
Just returned from an intense GHNP nine day trek to 14,000 feet with incredible major storms blasting and sublime beauty in between. It was the Tirthan to Sanij trek I did in 2000 with Sanjeeva Pandey (and Arny Lippin). Sanjeeva and I took a new, undeveloped, and as it turns out, dangerous trail from the Tirthan River side to Dhel thatch/meadow, returning via the Sanij River Valley.
It was the most challenging trek of my life…the second day a huge storm hit (that was expected from satellite weather maps but came a day early) and we had to mountain climb one day for eight hours up a 75 degree rock escarpment with some ledges 3 inches wide. Scary stuff, but my training/hiking for two months along with 35 years of trekking/mountain experience, along with steadfast, strong Himat (our main BP man) made it all possible…especially not slipping off into my end 1000+ feet below.
Much gratitude to my aging body for coming through and the joy of moving through constantly changing Himalayan landscapes and vistas. Sanjeeva and I had a ball and deepened our bond. Great retirement celebration for him and for me, perhaps my farewell trek in GHNP…but who knows? I felt incredibly strong, even agile at times, though my balance and knees are limiting forces. What an experience to have at 73+!
I'd do it again just to see rainbow bridges offering magical passage…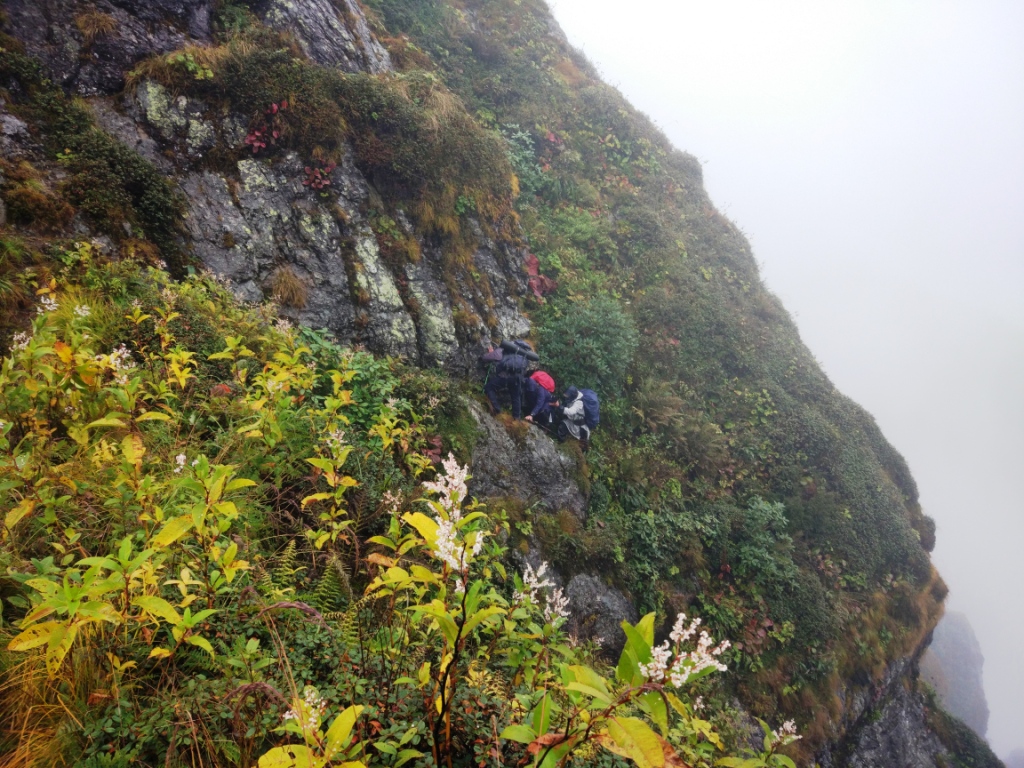 All GHNP trek photos courtesy of Sanjeeva Pandey © 2018
The trek stimulated an oil on paper suite,GHNP Storm, part of my ongoing painting in India since 1998 and found on my website, Energy Landscapes.