My Retirement Celebration Trek
FGHNP's founders and prominent members, Sanjeeva Pandey and Payson Stevens, celebrated Sanjeeva Pandey's retirement from Forest Service with a celebration trek at the Great Himalayan National Park in 2018.
Sanjeeva Pandey writes about this memorable and exhilarating trek:
"Itali-TitliTiyaridali; Yannebhibhali, syanebhibhali" is a local saying in the undeveloped and intensely wild area that I trekked with my friend Payson Stevens from 20-28 September 2018. The conversational meaning of this saying is that there are flowers of Tiyari (a local plant) in an area called Itali-Titli, which are very pleasing to make a very tough trek easy for the young as well as the old.
Payson had been the guiding spirit behind this trek to celebrate my retirement from the Forest Service. We have worked together for the biodiversity conservation of the Great Himalayan National Park (GHNP)—the site of our present trek—since 2000 when Payson came to my office (Director of the Park) to contribute to nature conservation in his wife Kamla's country (she is from Chandigarh, living in the USA for many years with many excellent publications to her credit). The trek was also to celebrate our 18 years of friendship, which has resulted in the successful inscription of the GHNP as a UNESCO World Heritage Site in 2014. Payson turned 73 in April 2018 and me 60 in the same month of 2018. Both of us have been preparing for this trek for more than two months. I was climbing from my residence in Khalini (a low-lying area in Shimla) to the Ridge (about 1500 feet climb). Payson was building his stamina by doing similar climbs around Ghiyaghi village near Banjar (Kullu district) where he has constructed a lovely house "BehtaPani" in 2003 (though Payson and Kamla live in California, USA, they spend May to October each year in this Indian home).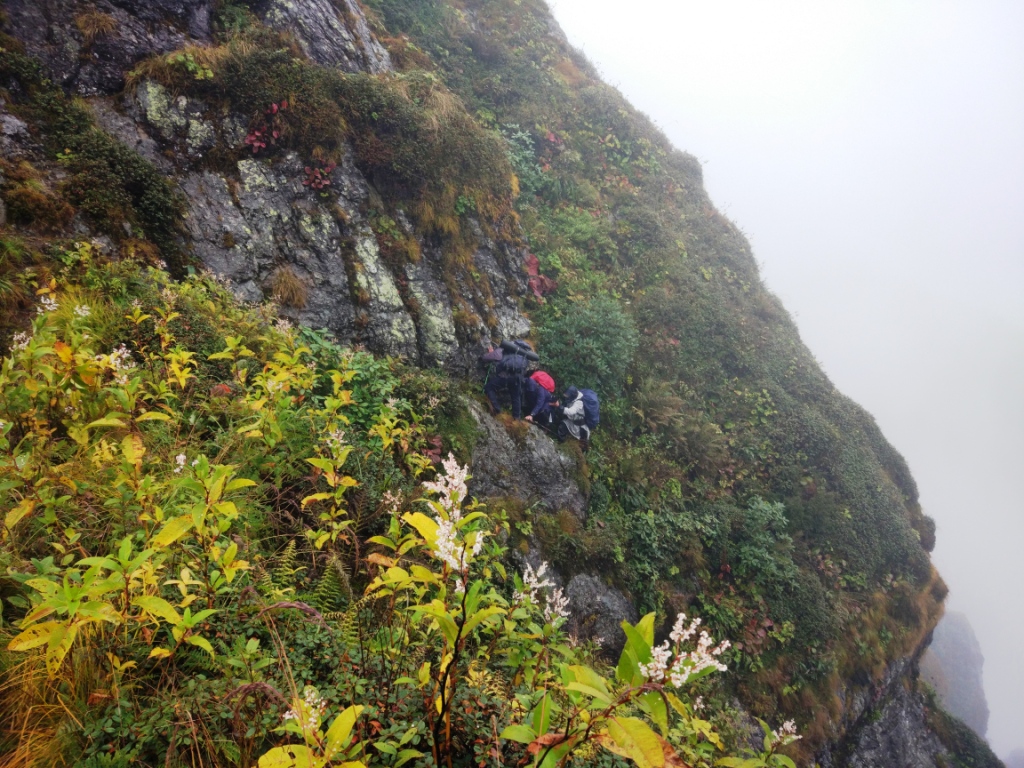 Our first two days of trek went very well with lots of sunshine and the cool breeze of high altitude forests of fir-spruce and oaks. Before embarking on this trek, we had studied satellite maps for the weather conditions. Accordingly, a thunderstorm was expected on 23 September which came a day early on 22 September when we were to negotiate the wildest and most strenuous part of the trek. In the words of Payson, we were on a sheep trail "with incredible major storms blasting and sublime beauty in between."
The whole experience gives me goosebumps as I think about the long march on 22 September (more than eight hours through the incessant rains and chilling storm) among the jumbled and disarrayed mountains between Marani and Dhel. Though I have crossed from Tirthan to Sainj several times, we were taking this route (through the Marani meadow) for the first time. This very demanding/testing but rewarding trek brought with it the excitement of being out in the cold of rains and storm. Most of the trek is above the tree line. The yellowing of ferns and plants of various colours appearing from crevices and rock faces (Berginia, Androsace or rock jasmine, Paraquilegia) present a very fine natural mosaic. The stunted and gnarled rhododendrons of high altitude, junipers and roses intermix with a numerous variety of herbs and shrubs. In times of the fury of nature, this vegetation and scenery en route (nicely depicted by the Itali-Titli local saying) was a great companion to keep our spirits high.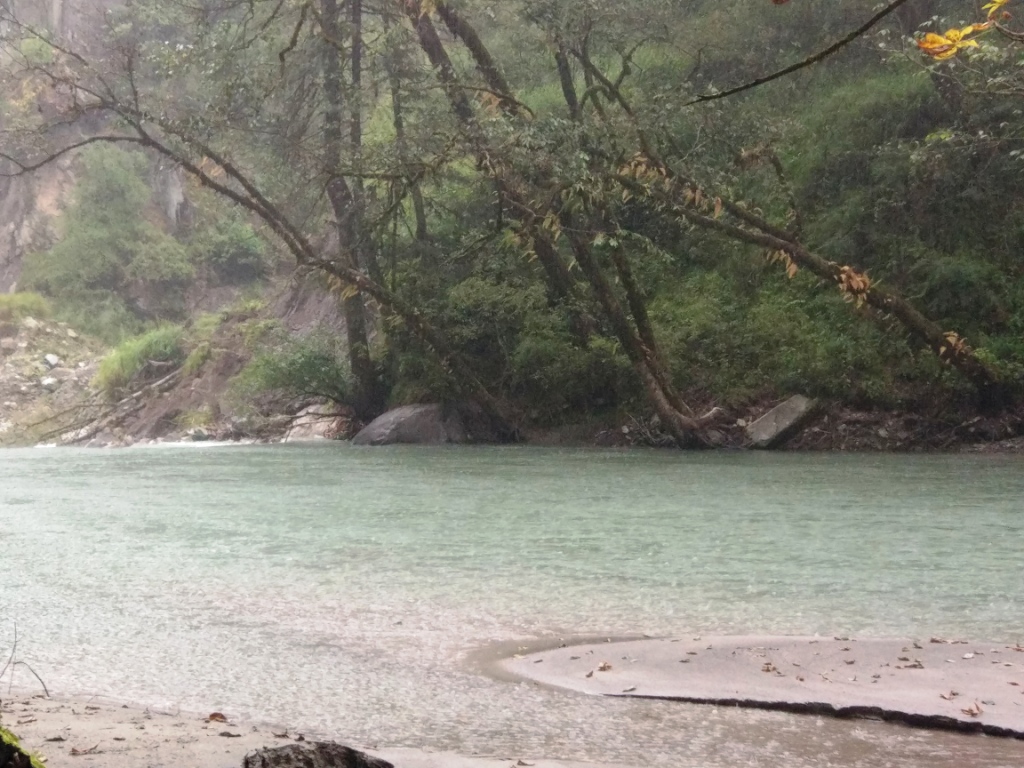 Our arrival at Supakhani (a local deity, Kaali avatar) on the edge of the Dhel meadow (3737 m alt) was some solace. At least, the path from here to Dhel Patrolling Hut (about four km) did not require us to jump from rock to rock (as we had been doing through the day), but was a decent Gaddi (shepherd) trail. The rains were not letting up. The firewood being wet did bring some comfort but with lots of choking smoke in the Patrolling Hut. Nine porters, Payson and I were accommodated in two tents (quite comfortable even during the rains) and the Hut. We were here for three days and four nights. After about 36 hours of continuous rain (evenings of 22 to 23 September), the sun god put up a gracious appearance on 24 September noon. Quickly, our porters arranged for a very luxurious shaving and bath. As we progressed from Dhel Hut to DhelJogani (a local deity), the inevitable rainbow appeared in a nearby V-shaped valley with a magical charm and beauty; indeed, nature has her own ways of testing and rewarding. We rejoiced to be there.
September 25 was a sunny day, so verdant and refreshing all around, awash with various shades of greens, browns and reds. The fresh snowfall on the surrounding mountain peaks provided a silvery white backdrop. The evening was graced by nature's presentation of a dazzling moon (full moon or Purnima) at about 8 PM, a sight without an equal that will stay with me forever. The next morning was without a speck in the sky. The panorama of layers of mountains visible from the ridge, about 50 meters up Dhel Patrolling Hut, was breathtaking. Though I have seen it many times, the freshness after rains and all that we had gone through was special, exceptional and overwhelming. Jai Ho GHNP!
On 26 September, we shifted our camp to BharadNala, a beautiful site, quite popular among the shepherds (bharad is the local name for sheep). A stream flows through the site with gurgling and happy sounds and made us feel cheerful. The six km walk from Dhel to Bharad was relaxing and alleviating. The next day we trekked to Shakti village to be with the new Park management. We shared our experiences with the Director of GHNP Mr Ajit Thakur and DFO Abhilasha. Mr Thakur promptly informed the local newspapers about our well-being (we learnt that the rains and the storm had caused havoc in Kullu and Manali). September 28 was a trek up to the road-head of Niharni. The afternoon trek was again through the rains, a reminder of the earlier days of this nine-day adventure.
Thanks a lot to my friend, philosopher and guide Payson for his cheery, jovial and good-natured comments. His suggestion for my retirement celebrations proved to be exciting, thrilling and exhilarating. I will always cherish the date of my retirement which was 30 April 2018, the Buddha Purnima, a date which denotes Buddha's birth, enlightenment, first sermon, and death (mahaparinirvana). Feeling blessed to retire from my job and proceed into the next phase of life on a date so significant in the life of my Guruji, the Buddha. Mangal Ho.