Biodiversity / Animal
Mammals
Among the large mammals, there are several species of herbivores that are characteristic of the Park: the Himalayan Goral, a small goat-antelope found in the lower forests, the Himalayan Tahr a wild goat, and the Bharal, or Blue Sheep above the tree-line. These mammals are prey for Common Leopards (in the forest zone) and Snow Leopards (above tree-line). Himalayan Black Bears inhabit the forests, while Asiatic Brown Bears are found in the alpine meadows.
Blue Sheep
Males are handsome with slate blue fur and black chests; weight about 60kgs, unlike smaller females. Prefers grassy slopes near cliffs from 3500m upwards to the limits of vegetation. Live in herds of about 5 to 20.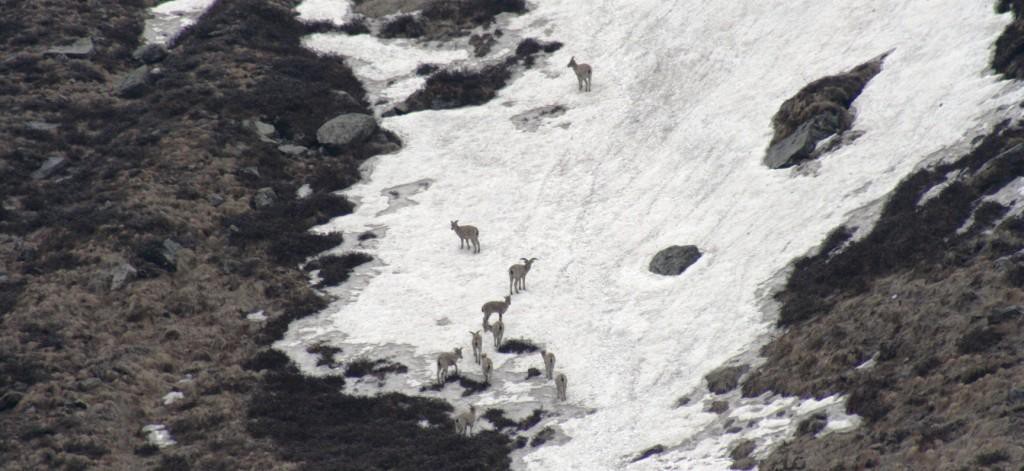 Himalayan Brown Bear
Usually herbivorous feeding on grass and herbs. Some become carnivorous killing sheep, gloats or ponies. Males may grow to 1.7m in length; females are smaller.
Snow Leopard
One of the most beautiful of the large cats with handsomely marked coat. Inhabits the highest inner portions of the Park contiguous with the Pin Valley National Park. Regular sightings of snow leopard are reported. First confirmed sighting in GHNP in Tirath, the headwater of Tirthan river, in July 1997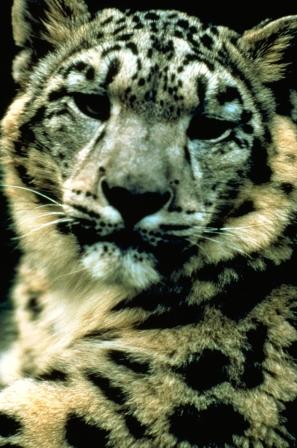 Himalayan Tahr
A wild goat which lives in the steepest precipices. May go up to 5000m altitude. Males have a distinctive, dark, shaggy ruff and a long mantle of paler hairs: they weigh up to 100 kg; females about 60 kg. Live in groups as large as 20 to 30
Musk Deer
Member of deer family though different appearance. Does not have any antlers. Males have backward-curving tusk-like incisors in the upper jaw. Unlike other deer, they have a gall bladder and a uniquely developed scent gland in the abdominal region which produces valuable musk. In some parts of GHNP they reach a relatively high density of 6 to 9 Musk Deer per sq. km. Rated high on the endangered species list. Hunted nearly to extinction for its musk.
At the low to middle altitude in Tirthan, Sainj and Jiwa valleys (altitude of about 2000 to 3,000m) the following animals are found:
Serow
A goat-antelope which is heavily built and of about 1m height. One of the least studied mountain animals. Solitary life in moist gorges with thick vegetation; moves with amazing speed.
Common monkey of northern India. The Himalayan populations are larger, with longer fur than those in the plains. Large troops live near villages and forests. Mingles with humans, creating mischief. Has heavier winter coat in winters.
Barking Deer
Also known as Muntjac or Ribfaced Deer. Adult male 50 to 75 cms high to shoulders. Antlers small with short brow-tine. Females have bristly hair in place of horns. In GHNP seen in thickly wooded hills from 1,500 to 2,500m altitude.
Goral
A goat-antelope with yellowish gray or brown coat suffused with black. One of the best known Himalayan animals. Very well represented in GHNP. Lives in small groups. Best seen on grassy ridges at dawn and dusk. Throat has distinct white patch. Height at shoulder is 65 to 70 cms. Horns about 13 cms. Goral prefer elevations of 1000 to 3000m.
Himalayan Black Bear
Associated with mixed broad leaf and conifer forests. Adult males weigh up to 180 kgs before hibernation; head-body length of 1.6m. A creamy white V pattern marks the chest. Well adapted for tree climbing. Can become carnivorous. Villagers close to GHNP dislike this animal as it destroys their maize crop and sometimes kills cattle.
Common Leopard
A sleek and agile cat with a tawny, reddish yellow coat marked with small close set black rosettes. Average length is about 215 cms. Lives in forests as well as in open country. Sighted up to 3,500m.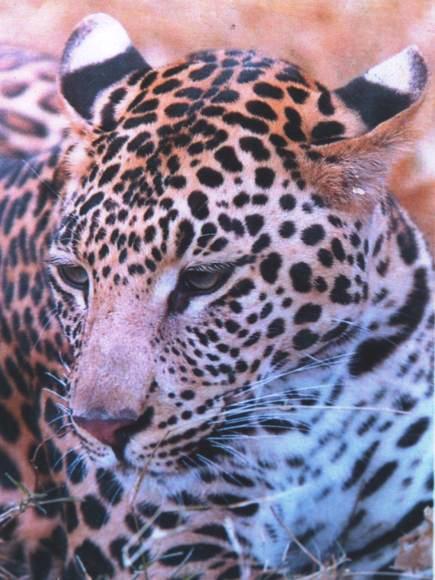 Large Mammals of GHNP
| Common Name | Scientific Name |
| --- | --- |
| Asiatic Black Bear | Ursus thibetanus |
| Blue Sheep | Pseudois nayaur |
| Common Leopard | Panthera pardus |
| Himalayan Brown Bear | Ursus arctos |
| Himalayan Ghoral | Naemorhedus goral |
| Himalayan Musk Deer | Moschus chrysogaster |
| Himalayan Tahr | Hemitragus jemlahicus |
| Red Fox | Vulpes vulpes |
| Serow | Nemorhaedus sumtraensis |
| Snow Leopard | Uncia uncia |