Friends of GHNP
Friends of GHNP is an association of volunteers who value the Great Himalayan National Park as a place of great natural beauty and significant ecological importance. Created in 2000 by Sanjeeva Pandey and Payson R. Stevens, it has grown to include people from all walks of life and different countries to further awareness, and support conservation and protection of the Park and the local community in the Upper Seraj Valley (Tirthan and Sainj River watershed).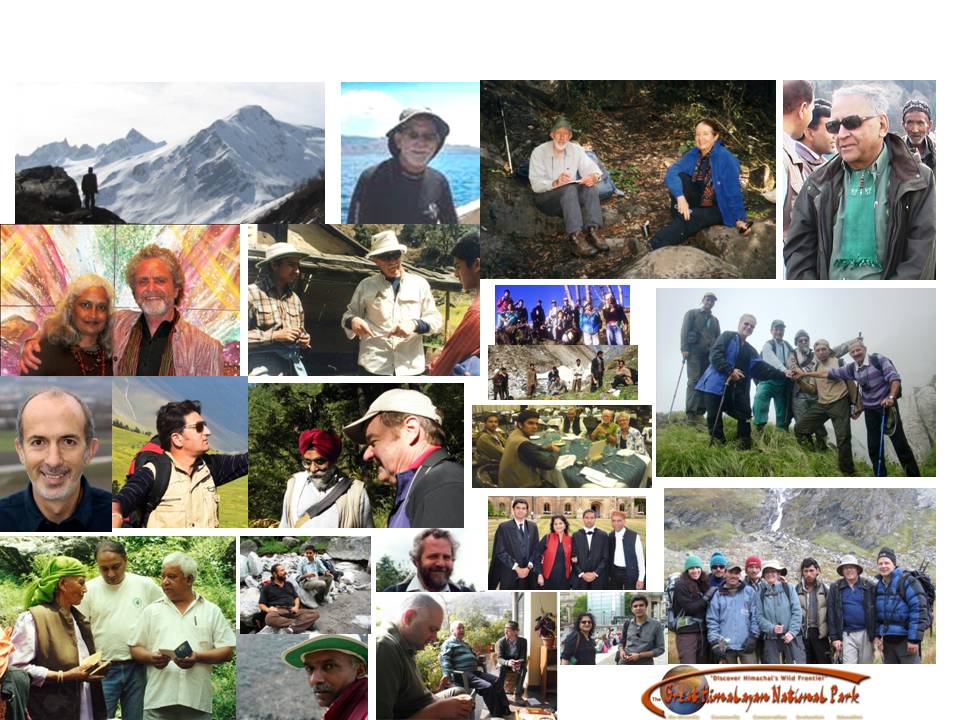 Volunteer members developed the Park's website in 2001 and a complete revision in 2012. An important goal of the website is to be the definitive site for past and current GHNP information, engender responsible ecotourism and put together scientific and conservation information, related updates, videos, research projects, undergraduate and graduate research access, ideas, and networking. Friends of GHNP has also taken a major role in supporting GHNP as the volunteers have written an elaborate UNESCO World Heritage Site (WHS) application which has resulted in the inscription of the Great Himalayan National Park Conservation Area as a WHS in June 2014. Main contributors/volunteers to this application and subsequent supplementary reports to UNESCO are Payson R. Stevens, Alan Robinson, Sanjeeva Pandey, K. Ramesh, Anthony J. Gaston, Kasey Allen, G.S. Rawat, G.S. Goraya and Abhimanyu Pandey.
Payson Stevens, a prominent Friend of GHNP says on 23rd June 2014:
"I want to let you know, with profound and quiet appreciation, that the Great Himalayan National Park (GHNP) was inscribed yesterday as a UNESCO World Heritage Site (WHS) in Doha. This is another wonderful phase of my 14-year association with GHNP as a trekker (1,500 km), advisor, and lover of this truly unique environment in India and our planet.
A very small informal group, Friends of GHNP, played a crucial role in making this happen, along with a handful of dedicated Indian scientists and government officials who understand the importance of GHNP: a place protecting the Western Himalayas by Indian environmental law and now internationally recognized as a World Heritage Site committed to conserve the unique biodiversity of the Western Himalayas."
"…..upon inscription as a WHS, I would so much rather see the energies of Director, GHNP along with………….. Friends of GHNP………… how to deal with expanded pressures from tourism, but also on how to better manage the park's resources, improve staff skills, establish carrying capacities, rekindle the scientific monitoring that was so significant in earlier decades and doubly critical now as global warming issues loom. And this ambitious but really important goal of expanding the current conservation area to include adjacent protected areas. All of these goals seem to me so much more important." —–Alan
Contact us and become a Friend of GHNP.