Ecosystem Services from the Great Himalayan National Park Conservation Area
GHNPCA: A Pristine Area
The creation of the Great Himalayan National Park (GHNP) is based on scientific investigations. It is large enough for the effective ecological functioning of natural processes. The Park has native habitats and species, as well as old growth forests. GHNP is only slightly modified. By and large, it has remained without intrusive or extractive human activity, settlements, infrastructure or visual disturbance. This is because of its remoteness, inaccessibility, little tourism activity and people depending on subsistence economy and indigenous enterprises.
Park Human Interface
The Park is protected by the Park management as per Indian Wildlife Protection Act 1972. The biodiversity concentration in areas is ridden with poverty issues while the reach of government developmental programs are often limited. Upon Final Notification of the Park in 1999, no herb extraction, hunting, grazing, logging, mining, or deadwood collection is allowed. There are no human interventions in the Park, e.g., restoration measures, permanent human infrastructure, etc.
A Compact Area Representing Western Himalayan Biodiversity
The Park is conserving Western Himalayan Biodiversity by protecting numerous ecosystems. It connects the following landscapes (part of 3100 sq km contiguous Protected Areas).
Adjacent contiguous or very close Protected Areas around the boundaries of GHNP
Protected Area
Size (sq km)
Notes
Great Himalayan NP
754.4
This is fully notified as a National Park and now a World Heritage Site (part of GHNPCA).
Sainj/Tirthan Wildlife Sanctuaries
151
These sanctuaries are in the process of incorporation into the Great Himalayan National Park (part of GHNPCA).
Ecozone of GHNP
265.6
This is the buffer zone of the Great Himalayan National Park.
Khirganga National Park
710
This National Park, contiguous with the Great Himalayan National Park on its northern boundary, is in the process of gaining full National Park status.
Pin Valley National Park
675
This National Park is contiguous with the Great Himalayan National Park on its eastern boundary, also in the process of gaining full NP status.
Rupi Bhabha Wildlife Sanctuary
503
This sanctuary is contiguous with the Great Himalayan National Park on its south-western boundary.
Kanawar Wildlife Sanctuary
61
This sanctuary is not contiguous with the Great Himalayan National Park, but lies close to its north-west boundary.
Total contiguous/close by protected area
3120.0
312000 ha
This is the extent of contiguous Protected Areas including the Great Himalayan National Park.
The Park's pristine and primeval forests capture and store carbon dioxide. The natural processes help build knowledge and understand issues such as carbon sequestration and climate change. Its Outstanding Universal Values of biodiversity and natural beauty inspires people.
Biodiversity and Ecosystem Services
Biogeochemistry
A natural ecosystem such as the Great Himalayan National Park's biogeochemistry is based on evolutionary processes over millions of years. The Park's staggering diversity of organisms and their collective biological processes lead to ecosystem functioning (Ecosystem Services). This is because of the inter-connected biodiverse elements resulting in Ecosystem Services (water, NTFPs, aesthetics, livelihoods, etc.) in addition to timber production (TD in GHNP Ecozone).
Five Tenets of Biodiversity
First Tenet
Native vegetation: It has greater capacity to provide ecosystem services under changing environmental conditions.
Second Tenet
Biological insurance: Emphasis on rare species conservation
Third Tenet
Biodiverse systems, on average, store more carbon and do so more reliably.
Fourth Tenet
Biodiversity is multidimensional.
Fifth Tenet
Thus, more functions and services need more local species.
GHNPCA forests show that the diversity of indigenous spp. may decrease the probability of invasions of non-native species, many of which have had substantial economic, conservation and societal consequences. Outside GHNPCA, the introduction of so many exotics (e.g., Leucaena leucocephala, Lantana, Parthenium, Wattles, Poplars, Eucalyptus, and numerous others) in forests including Protected Areas are diminishing the capacity of natural ecosystems.
It is scientifically proved that the extinctions of native species in forest ecosystems causes a cascade of other extinctions, accelerating the rate of community change. With strict protection, the GHNPCA area shows trees growing bigger and an increase in the diversity of flora and fauna. In the Ecozone, there are benefits from fruits, fodder, medicine, fuelwood, small timbers, wild mushroom, bamboo shoots, leafy vegetables and many more items on a daily basis.
Conversely, if we keep losing species, eventually ecosystems collapse. A few examples of such collapse due to the cutting of trees, wildlife consumption and trade, deforestation and degradation are pollution of air and water, zoonotic infections (Coronavirus), no evolutionary speciation and only accelerated extinction.
GHNP Inscription
Criterion X of Guidelines to Become a World Heritage Site of UNESCO
To contain the most important and significant natural habitats for in-situ conservation of biological diversity, including those containing threatened species of outstanding universal value from the point of view of science or conservation
Ecosystem Services and Human Well-Being
Scientists from all over the world have grouped Ecosystem Services from the planet's biodiversity in four parts (Millennium Ecosystem Services 2005):
Provisioning (food and water from forests, timber, NTFPs, etc.)
Regulating (climate change, carbon sequestration, etc.)
Cultural (sacred trees/groves, etc.)
Supporting (pollination, nutrient cycles, etc.)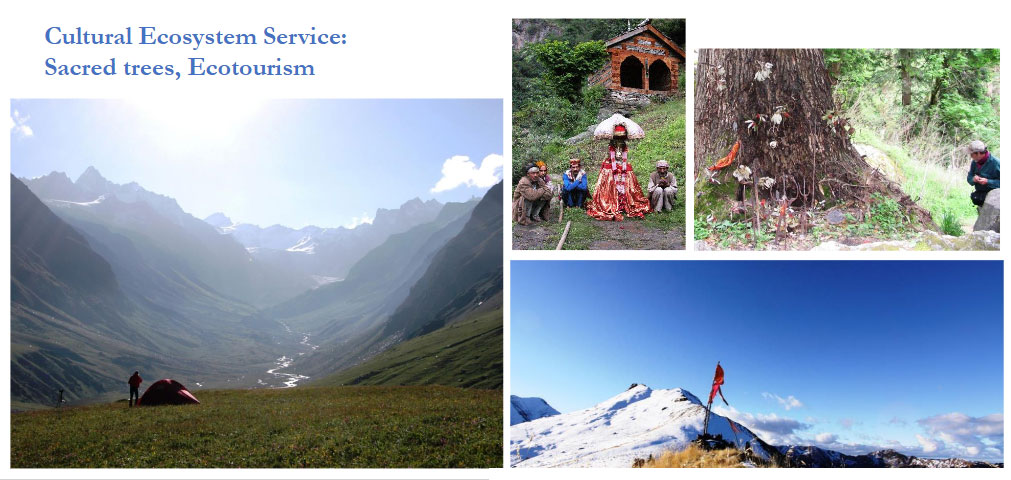 GHNPCA inspires foresters and wildlifers to focus on ecosystem services and inclusive economic growth that represents a transition from previous management objectives of either timber production or protectionist conservation. A forester can learn from GHNP's naturalness to simulate or mimic Nature (biodiverse and uneven aged forests) in a forest nursery with seed sowing of many diverse native spp. and known genetic source. This will result in the creation of plantations of local diverse spp. and age groups of trees, shrubs, herbs, microbes, etc. Such an Ecosystem Management subsumes: biodiversity conservation; sustainable management; multiple use forestry; close to nature forestry; habitat integrity (no change in the character of grasslands or scrub forest); uneven age versus uneven age (irregular); mixed species versus single species; and principles of the Pro Silva movement. This is the essence of the Ecosystem Approach to Forest Management.
If the ecosystem services are managed well, biodiversity will be retained and vice versa (Mace, G.M. et al 2012). More biodiversity provides more ecosystem services.
Way Forward for Himachal Pradesh Forest Department to Enhance Ecosystem Services from Protected Areas/Forests
Develop management plans based on the Ecosystem Approach to Forest Management
Start removing exotic spp. plantations of eucalyptus, acacias, wattles, etc.
Lots of emphasis on procuring seeds to raise forest nurseries from the known genetic source of the indigenous species
Training of forest guards/dy rangers/rangers in seed collection/storage/treatment
Raising of nurseries of main spp. (viz deodar along with its associated herbs, shrubs and trees); emphasis on mycorrhiza
Critical review of plantation norms for diverse spp. nurseries, etc.
Work on the nursery techniques of non-timber tree spp.
GHNP nurseries in the Ecozone to be revived as germplasm banks of priority spp. (medicinal plants, trees, shrubs and herbs) with seed collected from the Park
The Park/Forest management to bank on the legal and policy framework of the country, the use of modern approaches to Forest Management, the development and utilization of digital technology, with better practices of partnering with the community
Ecosystem Services: Baseline and valuation – incorporation of the quantitative and monetary values adds value to management planning
Access to Technologies: Use of mobile-based technologies for data collection and analysis for Park management planning. Alternative technologies (space based such as Synthetic Aperture Radar or SAR) for Park/Forest monitoring (even during clouds) and Above Ground Biomass (AGB) estimation
Climate Vulnerability: Though fuelwood collection and grazing in most of Himachal Pradesh is part of recorded rights of local people in the forests, it is becoming increasingly unsustainable because of enhanced population pressures. Need for research on climate vulnerability inclusive of socio-economic factors and forest types
Complementary management plans for areas outside the Park (Ecozone, etc.)
Addition of a chapter in the Management Plan that summarizes how the activities undertaken contribute to climate change mitigation and adaptation
Monitoring the Park Management Plan implementation – identifying indicators, data collection protocols, defining annual/mid-term review process and mechanisms
Ecosystem Services from the Great Himalayan National Park, a presentation by Sanjeeva Pandey, Former Director, Great Himalayan National Park