Visiting the Park
The Importance of Ecotourism
The Great Himalayan National Park (GHNP) is a magnet for travellers from around the world because of its pristine and beautiful landscapes and trekking trails. And its repute has only grown since it was declared a UNESCO World Heritage Site in 2014. Tourism comes with many benefits such as job creation for the community and nature awareness and appreciation. However, overtourism can impact both the local community's quality of life and lead to environmental degradation. Hence, ecotourism is vital to the well-being of the Park's biodiversity and ecology and the community.
Ecotourism is essential in places that are known for their pristine natural environment. It refers to responsible travel that creates minimal impact on the place and supports the local community and sustainable development. It is important to the community as it provides employment and financial opportunities for them. It also protects nature and the fragile biodiversity.
Ecotourism is often misconstrued as simply taking a holiday in nature, watching wildlife, or engaging in an outdoor sport. However, it is distinguished from conventional tourism in that it employs measures to reduce negative impacts on the natural and cultural environment.
Community-based ecotourism (CBET) takes the definition one step further. It ensures that the benefits, both social and economic, are realized by local communities. As a conservation tool, CBET can be a powerful incentive to protect the environment. CBET can act as a deterrent to animal and plant poaching by increasing the presence of outsiders (making it more difficult to carry out these activities without being detected) and by shifting the value of wildlife to being worth more alive (as a tourist attraction) than dead.
Outside of protected areas, CBET offers sustainable land use that can support the broader goals of forest, agriculture, and open space preservation. By upgrading local infrastructure to meet the needs of tourists, the living standards and resource use practices of local communities can also be improved, especially in the areas of public health, sanitation, energy, and waste management. In this way, CBET can function both as a conservation and rural development strategy. GHNP and the surrounding Ecodevelopment Zone have excellent potential to be developed as a CBET destination.
At GHNP, an example of a tour operator whose work is underscored by sustainable tourism is the award-winning Himalayan Ecotourism with whom Friends of GHNP works closely. It is a cooperative of around 65 members from the Tirthan Valley. It organizes treks in the Park and its work extends to supporting sustainable development in the Ecozone through women's empowerment, awareness and reforestation programmes, offsetting carbon emissions, and more.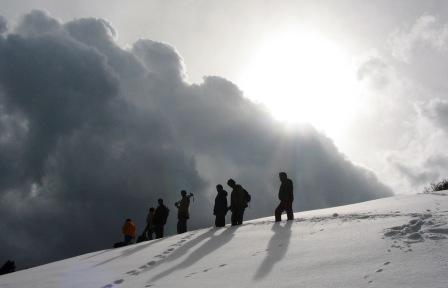 At GHNP, there are numerous habitats for exploration: from lush forests of oak, conifer, and bamboo, to gentle alpine meadows; from swift flowing rivers to high elevation glaciers. The terrain and geology are diverse. If one is lucky there are opportunities to observe endangered species of the Western Himalayas in their natural habitat.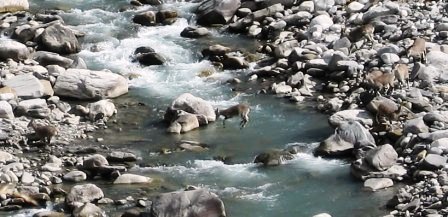 Unabashed, Untamed, Unspoiled
Fortunately the states of Himachal Pradesh and Uttaranchal have much to offer to this new, emerging breed of eco-tourists. Nature is in its wildest form, in its purest essence, with its most ancient presence at the Great Himalayan National Park in Kullu district of Himachal Pradesh. It's unabashed, untamed, unspoiled, and unmitigated milieu send invitation to very special trekkers who love adventure. Jeff continues to compare the GHNP environs with the Nepal forests where there are hardly a grove of trees which has not been trekked. Moreover the climbers leave a lot of garbage all over the place….one cannot escape humanity, says Jeff. He chose Great Himalayan National Park for experience or feeling that he is among very few to come face to face with primordial nature as it has always been.
Lot of serious trekking that a trekker like Jeff does is on the trails washed out by a storm; there are uprooted trees….the kind of experience if you know what you are getting into, you might not have chosen to do it. The fact is that the place is so enormously primitive that the walking up a trail that is slick rock, slick mud, slick leaves, hardly anything that you can trust, the bridges being washed out, all these elements giving you a sense of deep adventure. It is not about a trail so wide that it is easy to find; the journey so often done. In the Park it is about finding your way along the trails that are so ancient and earthly beautiful. Unlike Jeff, not many of us will say that that is what adventure is really about. The Park management is very conscious of the reality of poor quality of trails, bridges or unattended landslides. The fragile ecosystems of the Park are evolving without very little human interventions. This allows only a few hundreds of visitors in a year coming to the Park. The Park brochure describes no-road connectivity as one of the assets of the Park