Culture
The local people around the GHNP live in villages in the designated Ecozone. Their unique culture and traditions are evident in their clothes, food, and the festivals they celebrate. Many shrines to local gods can also be found in the region. Folklore, mythology, and worship intersect at these shrines. The stories behind these shrines and gods (devtas and devis) voice the beliefs and way of life of the people whose lives are closely intertwined with nature.
Communal ties are important and necessary in these remote mountain villages. Held year round in different villages, melas (fairs) are common and are an opportunity for communities to come together. Local songs and dances in traditional costumes are often a large part of these community affairs. There are many kinds of folk dances: charasay-tarasay, lalharhi, and kahika are for women; bandhu, horn dance, deo khel, and hulki are performed by men; and natti is mixed.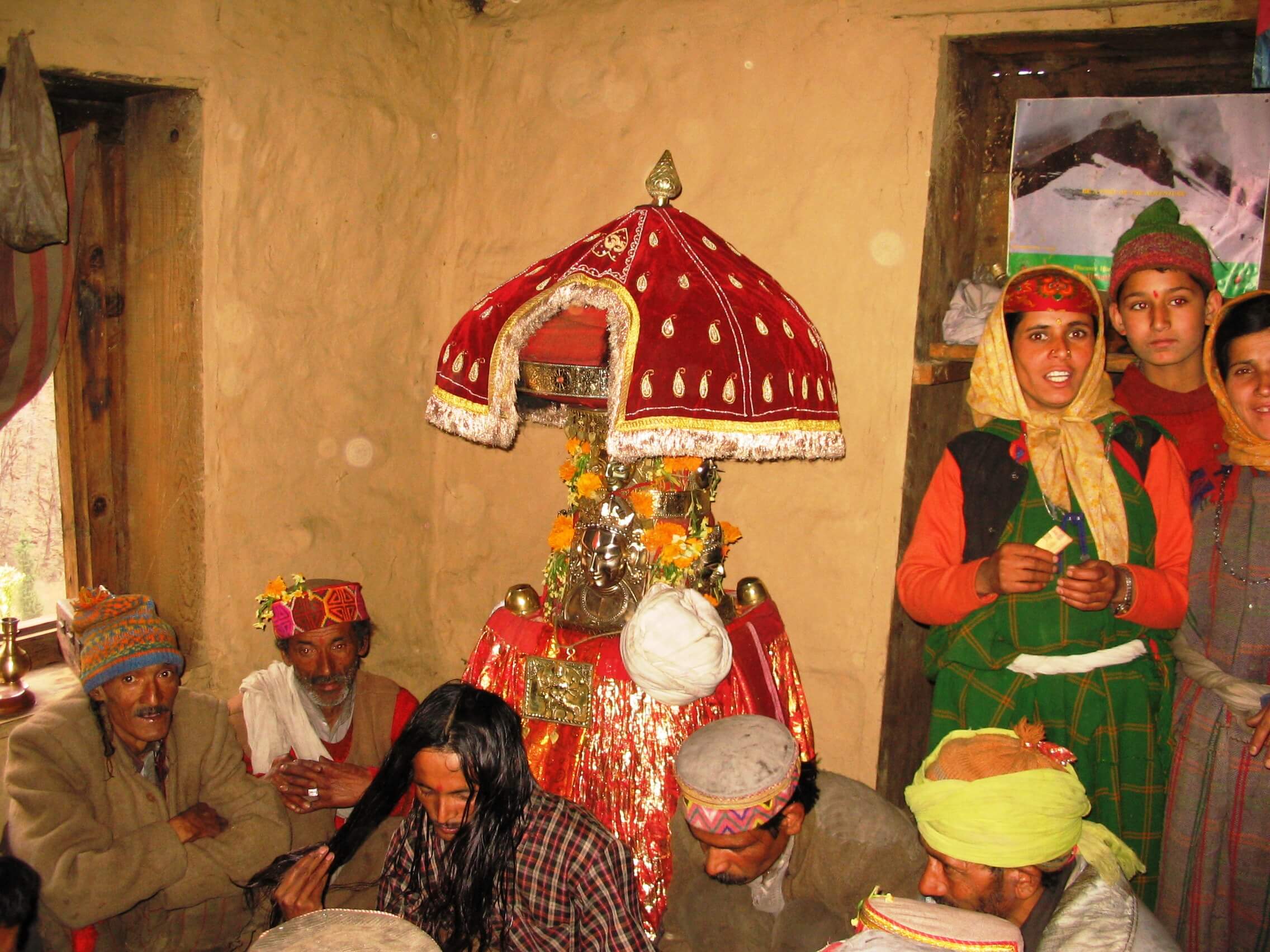 The mountain community is attuned to changing seasons. Melas, or birshu, are held during the chaitra and baisakh seasons. Festivals too are a time of celebration in the mountains. Two well-known festivals are Phagli in February and Dussehra in October. While Dussehra is celebrated across India with some variations, Phagli is unique to Himachal Pradesh. Spread over four days, the festival is celebrated to seek the blessings of deota for the approaching harvest season. The most striking aspect of the festival is the costumes: elaborate wooden masks and robes made with dry grass.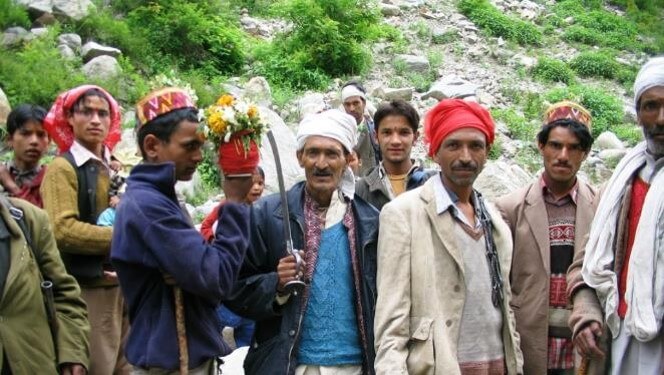 In the winter months, the traditional clothes of women called pattu offer a striking contrast to the cold white mountains. Pattu is heavier than shawl and made with bright colors. It is worn over clothes and pinned with a brooch called boomini and belted at the waist with dhatu. It could take up to six months to make a pattu as it involves an intricate process of looming and weaving of spun wool known locally as tana bana. There are many varieties of designs. A plain pattu features horizontal and vertical lines (chhiyan) with a red border (dhari) while the chitra pattu uses a black and white base with a red border at the ends. Daba is similar to chitra pattu as a black and white base is used here as well except for the border that is colorful with traditional designs. Both ek phulwala pattu and teen phoolwala pattu use colorful combinations and traditional floral motifs.
Pullans, shoes made with hemp, keep the feet warm. The fiber comes from the bark of the Cannabis sattiva linn (bhang). Goat hair is used at the top. Common among Himachali men is the cap, or pahari topi. Modernization among the younger generation and the availability of newer designs has meant that the locals prefer simpler clothes like salwar suits for women and kurta pajamas for men (similar to kaftans and leggings) for everyday wear. They are more likely to be seen wearing traditional clothes during fairs, festivals, and other special occasions.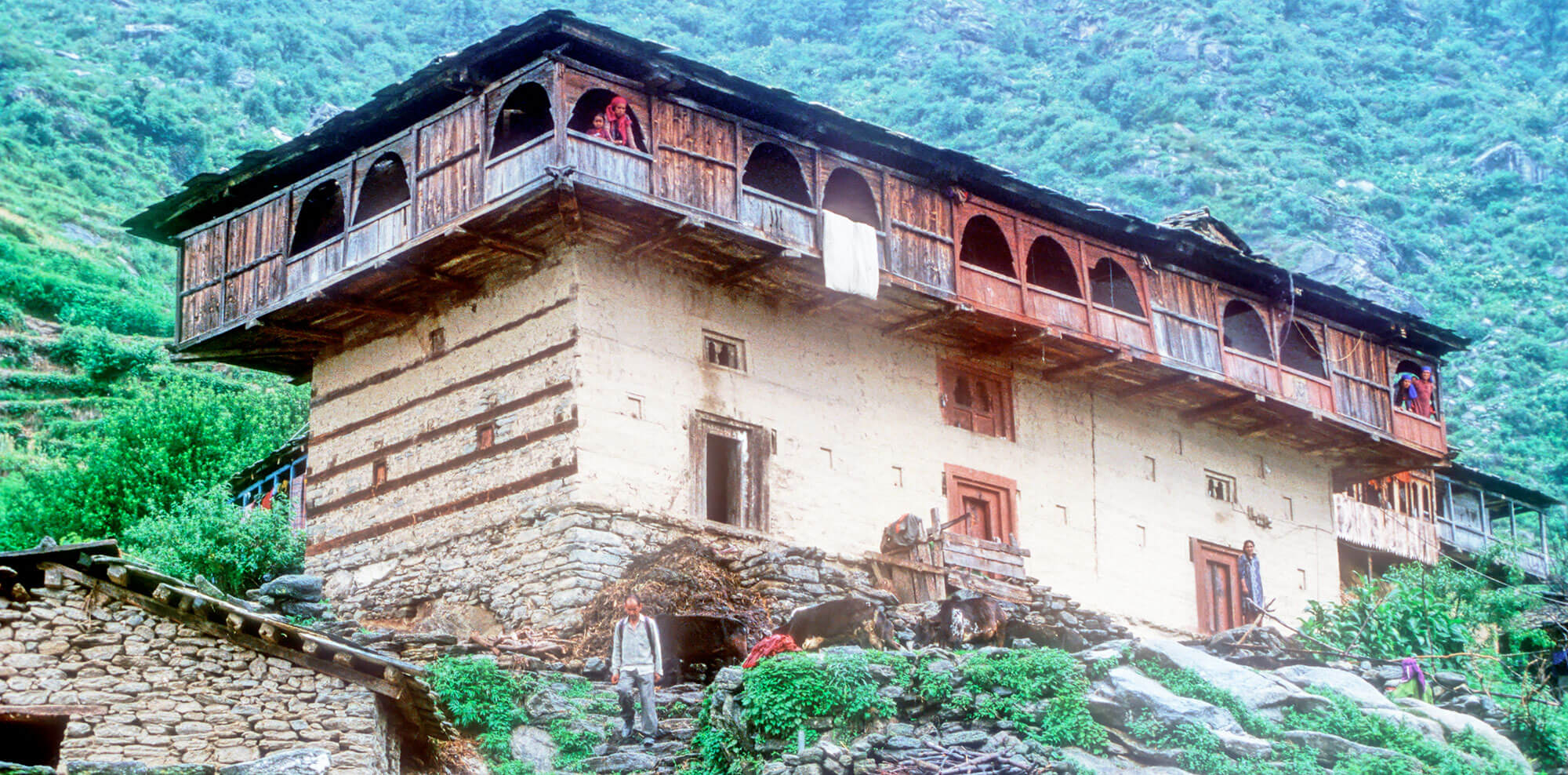 Though the influx of tourists has meant a variety of cuisine is available in the Ecozone, traditional food influenced by the climate and made with locally grown ingredients is still a part of local life. Traditional foods include madra (bean curry), tudkiya bath (slow-cooked rice with lentils and spices), bhey (stir-fried lotus stems), sattu (roasted grains or grams), chha gosht (mutton curry), and Kullu trout fish. The most well-known Himachali cuisine is dham (feast/ceremonial food), which is an equivalent to thali or wazwan (multi-course meals). The dham includes a variety of vegetarian dishes with different tastes such as rajma madra (curd and beans curry), meetha bhaat (sweet rice), kadhi (gram flour fritters in buttermilk gravy), bhaturu (fried or baked bread made with fermented wheat flour), and khatta (tangy gravy). The dishes can differ according to region such as Chambyali dham, Mandiyali dham, Kamgri dham, and Bilaspuri dham.
The affinity of the people to their environment is also seen in the traditional architecture. The kath-kuni technique uses locally sourced stone masonry and wooden (deodar/cedar) logs that are interlocked without mortar. It is known to be sustainable and earthquake-resistant and for the insulation that is required in extreme cold that is characteristic of Himalayan winters. The water mills in the interior areas of GHNP Ecozone are wonderful examples of local technology at work. The local temples built in kath-kuni style exhibit a very refined aesthetic sense in unison with the local environment and settlements. The façades of temples and homes are adorned with the local craftsmanship in the form of carvings in wood and stone.
One of the reasons for the decline of this vernacular architecture is the restrictions on felling trees from the forests to prevent deforestation. Kath-kuni has also made way to more modern constructions; with the arrival of modern culture, some of these temples, described lucidly by Penelope Chetwode in Kulu: The End of the Habitable World, are being painted in colors which are alien to traditional aesthetics. Without intervention, traditional architecture will be lost to time and ugly cement buildings. The traditional architecture, intrinsic to the culture of the mountains, needs to be protected and modernized to prevent it from disappearing.