Biodiversity / Animal
Overview
The Great Himalayan National Park is known to host a wide variety of vertebrate fauna, including several charismatic, Threatened and regionally endemic species. Mammalian fauna is represented by over 31 species belonging to six orders: Primates, Carnivora, Artiodactyla, Insectivora, Rodentia and Lagomorpha. Among these, the Himalayan Musk Deer, and Snow Leopard are endangered species (as per IUCN categorization), while the Himalayan Tahr is endemic to the Western Himalaya. Birds form a significant constituent of the biodiversity of the study area. There were 183 species of birds (both resident and migrant) reported by Gaston et al. (1993). Ramesh (2003) added 26 more species to the list, bringing the total number of species confirmed to 209.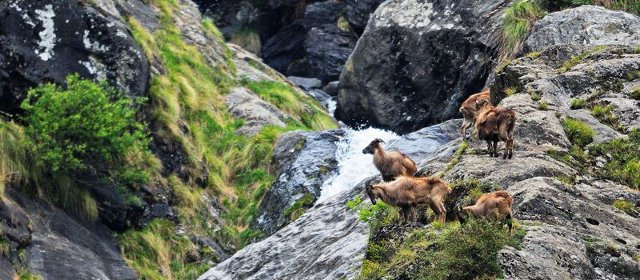 Himalayan Tahr group near Majhoni Meadow (3,800 m), Tirthan Valley
Most of the Himalayan fauna has been given protection under the high priority protection category of Schedule I of the Indian Wildlife (Protection) Act, 1972. The state government of Himachal Pradesh has banned hunting in the state for more than ten years: The ban continues.
A trek of 35 to 45 kms. in any of the Park's valleys brings one into the high altitude habitat (3,500m and above) of animals such as blue sheep, snow leopard, Himalayan brown bear, Himalayan tahr, and musk deer. Best sightings can be made in autumn (September-November) as animals start their seasonal migration to lower altitudes.